Press Releases
May 15-21, 2016, is National Public Works Week
Posted on May 16, 2016 at 0:00 AM
---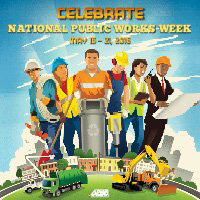 The week of May 15-21, 2016 has been designated as National Public Works Week by the American Public Works Association (APWA). ESG Operations, Inc. salutes the over 28,000 public works professionals serving in all aspects of public works across our nation. Public Works is an essential part of every community. Clean running water, effective drains and sewers, sturdy roads and bridges, street lights, safe building codes—these are the foundations on which we build our communities. The dedication and commitment of public works professionals impacts our quality of life in the communities where we live and work.
The theme for this year's National Public Works Week is "Public Works Always There." This theme showcases the importance of public works. Communities depend on public works, and the men and women of the profession are always there and always ready.
"ESG is grateful for the dedicated team of public works professionals within our company who serve communities across the Southeast. We value the work you do—planning, building, managing and operating various aspects of public works— and the contributions you make to keep our communities safe and improve our quality of life. We salute you and thank you for your service," stated John Eddlemon, P.E., ESG Senior Vice President.
---
Tags:
water
wastewater
utility
public works management
National Public Works Week
---